The Problem
In late 2017, Astellas Pharmaceutical faced an existential threat to their business with a failing culture and the possibility of losing their license to operate. They were under review for having reacted badly to compliance failures. The bad reaction had also created a blaming and fear-base culture, paralysis in decision-making and a fundamental lack of trust. The challenge Holos took on was to assist in creating a culture of compliance through authentic leadership, interdependence and trust.
The solution
Holos assisted in a range of organisational level solutions across the EMEA Region. Our solutions were based in helping the organisation build operational and compliance reliability through developing leadership and culture. Solutions were applied at team and organisation levels across over 500 participants from the Management Board down the 1st Line leadership positions.
Team modules – looking at interdependence and authentic leadership, these interventions worked in an applied way across a number of intact management teams with significant overall cultural accountability, developing psychological safety and the ability to speak up and experiment behaviourally.
Cultural Leadership programme – directly addressing horizontal and vertical tensions between functions and levels, this programme worked to develop leadership skill in dealing with trust, accountability, and emotional triggering, developing empathy and interdependent ways of working.
The learning model was based on repeating cycles of teaching theory and putting it immediately into practice. Building new skill in safe environments by using actors and scenario-based sessions in which the foundations of psychological safety and trust could be explored, and multiple ways of responding through the building of empathy and new EQ-based skills
In March 2018 Astellas' license was reinstated, with this work having contributed to the turnaround in compliance behaviour at speed. This enabled deeper work to proceed, contributing in the dramatic shifts in leadership and cultural norms represented below. This measurement was taken across the whole EMEA culture, not simply one or more leadership teams.
The results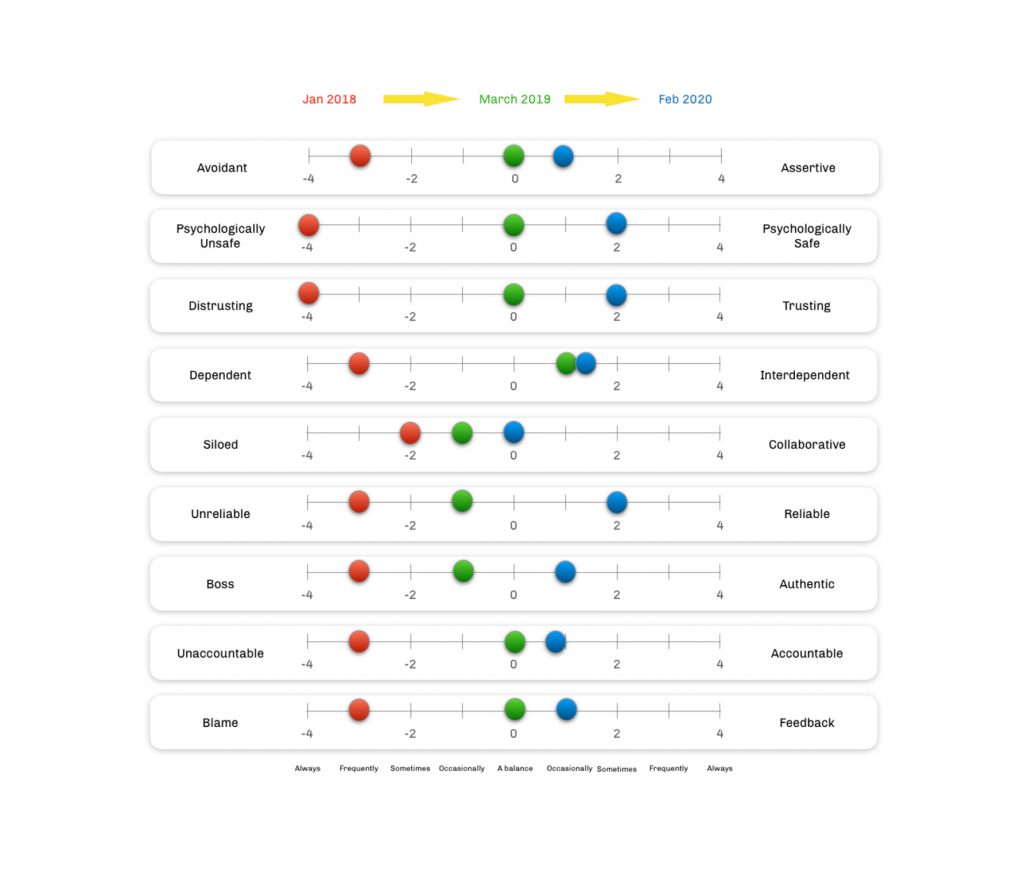 We engaged Holos to help us address cultural factors contributing to serious and ongoing compliance issues. Working in close partnership, we quickly identified the root causes, and designed and delivered a programme for leaders to address that at pace. The programme focused on building greater levels of psychological safety, for leaders themselves and for others. This was a crucial foundation to creating a culture where people felt safe to speak up, and contributed towards reinstatement of membership of the UK pharmaceutical regulatory body.

We have built on this with a second phase, which Holos skilfully facilitated, that focused on building the skill and will of leaders to intentionally build trust, through constructively challenging upwards, managing emotions, authenticity and vulnerability. In a global, matrix organisation, going through significant change, this capability is essential.

I would recommend Holos as innovative and thought-leading consultants who will make an impact in the leadership, culture and change space. They understand and approach issues systemically, deliver high quality solutions, have gravitas, and challenge and delight in equal measure. The virtual nature of Holos also means they have high quality faculty so that can scale programmes at pace. Working with Holos has been a key part of shifting our culture.

Kasey Brown
Culture and Engagement Lead
Astellas Pharma Europe Ltd
Are you brave enough to change your future?